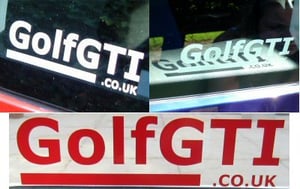 £

5.95
GolfGTI.co.uk logo stickers.
Stickers. For sticking on things.
Approx size 15.5cm wide by 4cm high.
The red ones are 'normal cut' meaning they go on the outside of stuff. Stick them on your car windows, or where ever else you can think of.
The 'etched glass' look stickers are reverse cut to stick on the inside of windows.
Each colour option come as a set of 3 for £5.95 including delivery to UK addresses.